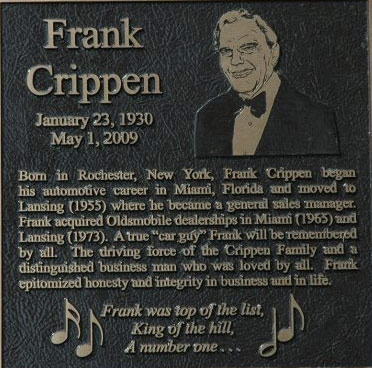 In 1954, Karl Story brought Frank Crippen from Miami to Lansing. Frank was Story's General Sales Manager for the next 10 years. Then in 1965, Frank moved his family back to Florida and opened his own dealership...

In 1973, Frank Crippen bought Starnaman Oldsmobile, just west of the Lansing Mall, and changed the name to Regency Oldsmobile. Frank's family remained in Florida while Frank made frequent trips to Michigan to oversee the Lansing store. He sold the Miami dealership in 1994 and sold the Lansing store to his son, Jeff.

Jeff, with wife Susie, and children Jeffrey 30, Nicole 28, Susanne 25, and Kristyn 20, moved to Lansing, and Regency Oldsmobile became Crippen Auto Mall.

Jeff had become accustomed to Michigan winters before the family moved back to Florida when he was nine. "We love it up here," says Jeff.

Jeff attended high school in Miami, and obtained his business degree from the University of Notre Dame in 1978. "The work force in Lansing is much more stable and the whole business environment is more trusting. Business flows easier -- there's more of a 'handshake business atmosphere."

Crippen holds franchises with Buick,GMC, Mazda, and Volvo. "We also offer pre-owned vehicles, a full service department, body shop, and parts department," Jeff says.

Jeff says his goal is to develop long-standing relationships with customers and employees, and to keep his staff well-trained.

"A vehicle is the second largest money expenditure a person is going to make," he says. "We want to ensure our staff can address the customers' concerns, and do it in a professional manner."

"What we're striving for is care for the customer. Whether it's buying, service, body shop, or parts, we want to ensure our staff exceeds our customers' expectations -- and will refer their friends to us."